"We wouldn't go back to that other life for anything….
The freedom we have is simply amazing. And while we still deal with everyday life, there is serenity all around us. It's a slower pace, a simpler life, and we are much more deeply connected and happy."
— Howard Payne, Full-Time RVer and RV Freedom Now Story Contributor
If you are dreaming of a Full-Time RV Life
It's time to stop dreaming and take action!
Discover the 10 Steps You Need
to Live the Ultimate RV Lifestyle
from Real-World People Already Doing It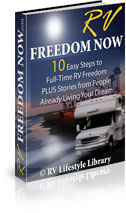 Do you dream of waking up with a new backyard every day of the week? One you don't have to mow, rake or otherwise maintain?
Do you imagine sipping a steaming coffee with your loved one while watching the deer roam through your campsite or sharing stories with new friends while you watch the sun set over the desert? Or the Pacific Ocean? Or the Alaskan wilderness?
How much is freedom worth to you? How about peace of mind?
Are you looking to erase the doubts, fears and niggling countless details standing in your way to choosing RV freedom now? If so, then this could be the most important letter you ever read!
Would you like to sleep at night instead of making endless lists and wondering how you'll pull off your full-time RV lifestyle?
If I could save you hours and hours of research and mind-bending soul-searching and endless sifting through boring details to get the real goods….
If I could share with you secrets from people who are already living full-time in their RVs…(and have been for several years)
Would you be interested?
Think about it. The right information can help you make the right choices and avoid costly mistakes. Good information is the most powerful thing you can have when you are looking to make changes in your life.
If you're anything like the people in this book that are already living your dream, then you probably dream of a life of adventure, fantasize about quiet mornings enjoying your coffee in new surroundings and…you probably share with them one of the main reasons they now RV full-time: